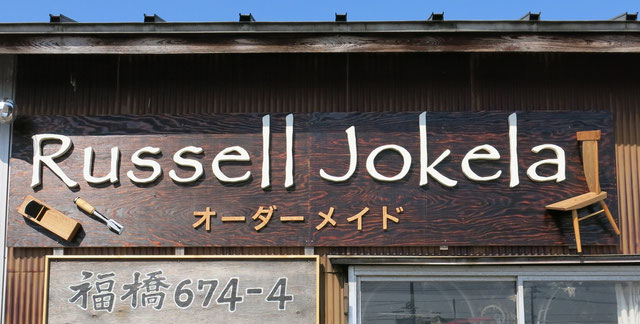 Dear friends and viewers,  I will be making my first trip to Finland, May 21st to June 10th - just around the corner!  I'm looking forward to see the origin of my roots, the Finnish side of my ethnicity.  I will be helped along by two Japanese colleagues for the first few days, then I will be on my own to visit a few relatives, to see some places of arts and crafts, and to visit the beautiful Finnish countryside!  I've had a cold in the last few weeks, and have been a bit down, so I'm hoping to get better as I get closer to the fresh air and new sights of ole Soumi.  Will fill you in with info. and photos as I go along, if I can.  Cheers!  
Dear friends and clients,  I trust all are enjoying the arrival of Spring, and that you're doing well!  
For the first time in 12 years I have not had any major furniture orders, coming into this year.  I have been working on a few smaller projects, orders and new small products; such as business card cases, wood lunch boxes of various design, stools, jewelry boxes, bamboo hairpins, etc.  It is a bit worrisome to think of having to develop my business and perhaps advertise more, which I have not had to do until now.  
Upcoming news is that I'm going to Finland for the first time, May 21st!  I have made contact with a few relatives, and I have two recent Japanese colleagues who may assist in presenting my work in Finland.  I have long wanted to see the countryside as well, so this I'm also looking forward to!  
Last year's news was that my mother, Yoshino, and I were able to finally make a trip together back to Seattle, WA, in June.  It was a vital and heartfelt trip, and had been nearly 25 years for Yoshi since being in Seattle.  We also had the opportunity to see my brother Andy, and sister Elsa, and to bury our father's remains, finally.  He had passed away in Sept. of 2011.  Once more, in some 25 years, our whole family was together again!  
The coming year has no distinct markers yet, except the trip to Finland; but I'm hoping for some new developments in business, and training myself to take on new working habits and challenges of organization.  It will also be good to find some diligent workers to help me, as I try to spend more time with sales, contacts, design, and office organization.  
Best regards, and healthy wishes, into this year!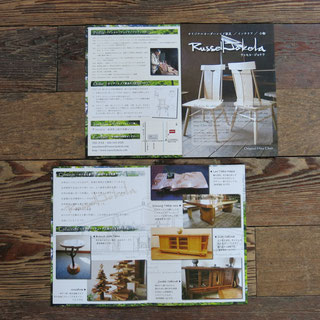 New work pamphlet, outside and inside view; finished just in time for the new year!  Please contact me if you want some copies.  
Hoshikattara renraku kudasai!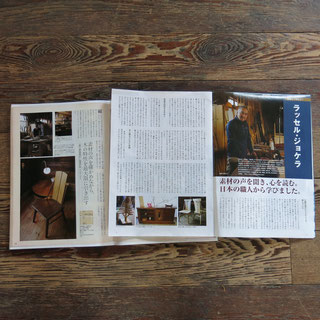 Two recent magazine articles: "Carrel," out of Niigata City, issue Jan., 2014;  And "Longstay," out of Tokyo, Spring, 2015,(at right, 3 pages). 
Dear viewers and good clients,   April 13, 2014.
This year has been an unusual, tumultuous mixture of many different challenges, to do's, new people, and rewards!  It has also been emotionally trying, with inspirations to new beginnings.  The general wave has been of plenty of work through the winter, some unexpected bonuses, a manageable pace of furniture orders, and a financial build-up which has allowed my mother and I to make a long-awaited trip to Seattle - this June!  For Yoshino, it has been over twenty years since going back.  We look forward to visiting with my sister Elsa, brother Andy, some friends; and burying my father's remains.  This effort is perhaps long overdue, but the older we get the more we are wont to pace ourselves; and this adjustment too has been one of my emotional trials.  
There has not been a week without furniture work for me in about a decade - except when I've chosen to leave it.  I want to thank those who have assisted me, prayed for me, and who have thought to purchase my work!  And I want to thank my medium too, wood, for always being there, challenging me, inspiring me, and giving this opportunity to work, learn of the medium, and to make a living.  
My emotional and psychological ebb and flow over the winter has to do with too often living and working alone, thinking alone, and having too few avenues for open, forthright communication.  It came to me that everything humans do, from sports, learning, working, relationships, consuming and eating, hobbies, etc., is a search for certain inner or outer communication.  It is an attempt to interact and grow, to deepen ourselves.  However, a lack of this "communication" can be unhealthy.  My struggle is with needing the depth of concentration and focus to do my work and other interests, while also finding ways to share and interact with others.  This latter has not been easy for me.  Part of it stems from my stoic, independent personality, and part of it from having so many interests that are unpopular in this area, and this age!, it seems.  
Another up-side of this year however has been meeting many new people; but in my constant criticism, there is a positive and a negative to this as well.  Many new people have spoken to me kindly, and have come to visit my workshop!  The excitement of meeting new people, for me, has been balanced-out by the general lack of anything accomplished together.  Having been in Japan for nearly 20 yrs. it's hard to say if this is because the folks here are inhibited by foreigners and take a long time to do anything new, or if it's the same everywhere today.  I hunger for greater interactions in work, play, arts, and outdoor recreation; but I've been famished for so long that asking for more than hunger now feels like selfishness.  I don't know whether to scream, or continue this silent gratitude for 'just having a roof.'  It's difficult for me not to wonder if we aren't capable of more...   And yet, the people are there; and good things do happen; and food and drinks are had; and kindnesses are shared; and the phone rings on occasion; and work is constant...
This is a summary of my transition into 2014; and it is sprinkled with many moments in the great outdoors, with camping, canoeing and forest walks.
It seems the current woodworking orders I have now can just be finished before departing for Seattle.  There is harmony and discord to sustain us; and hopefully not losing the balance, they will push me forward into the rest of a memorable new year!  
1 Comments